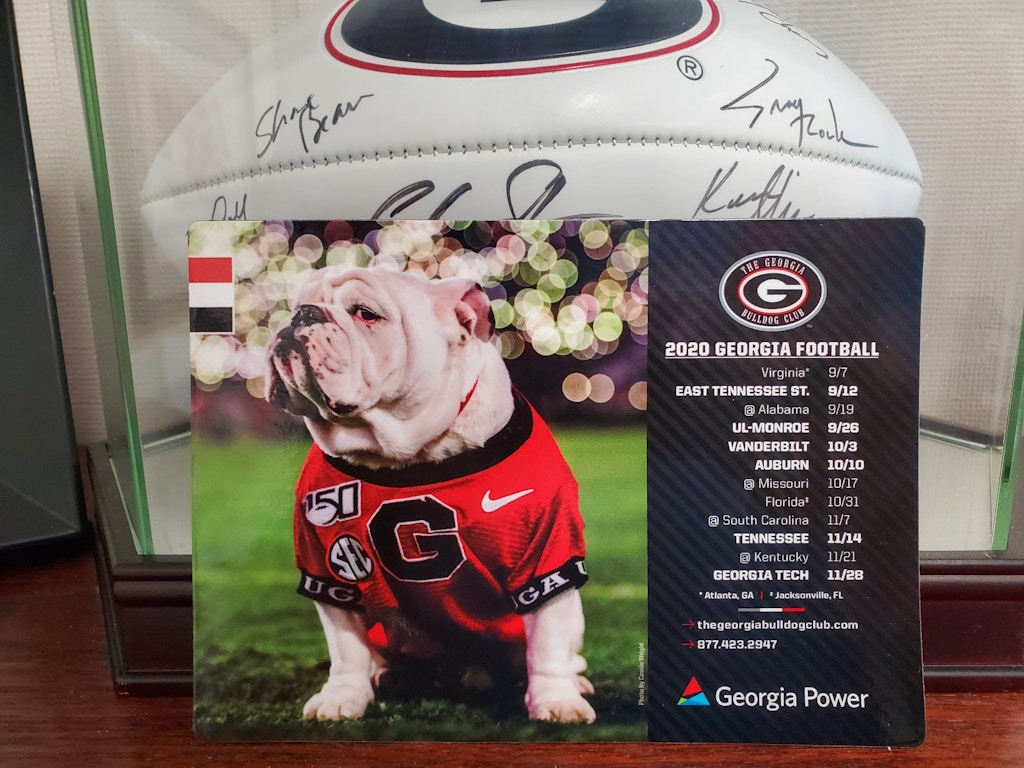 DAMN! DAMN! DAMN! Frankly, I don't know another way to better describe our current situation here in Athens or the whole country for that matter. Well, maybe I do know some other words, but those might be a little too ugly to write down. At least damnation is in the bible. We all know what is happening and what we have been dealing with since March of this year. I think we have all seen things occur that we just never thought would happen in our lifetime. Last night I saw the now famous, Dr. Fauci, throw the first pitch for the baseball season and it went almost sideways. He missed the catcher by almost 20 yards. Being such a brilliant guy, you would think he would practice a throw or two before going to the stadium. I then watched the Dodgers/Giants game on TV with cardboard cut outs of people in the stands instead of actual fans. It was at this moment I thought to myself, "this is all just an awfully long and linear nightmare. I'll wake up tomorrow and realize it was all a dream." Unfortunately, this was not the case. However, it did get me thinking more about football. I have been terribly negative on the subject lately, but today I am the king of wishful thinking.
So, if they actually do play football what happens?  I am not interested in talking about masks, social distancing, or if fans can attend the games.  I want to talk about the actual team and how they will fare because that in itself is an interesting topic.  This year there was no Spring practice or "G" Day, and I have no idea what kind of workouts they have been able to have here in Athens over the summer.  Furthermore, we have a new offensive coordinator, three new quarterbacks, and a rebuilt offensive line.  All of these factors are hard to overcome in a normal year, but how do you work through things like this in 2020 as a football team?  Let me be clear that I desperately want to see football on TV.  I am not expecting to tailgate or attend the games, but I am hopeful they will play on television.  In past years, I have gone through a game by game rundown of the season.  I called it "Preseason Predictions and Prognostications".   Considering that we are not even sure they can play at all; I don't think that is the best course of action this year.  With that in mind, I am going to discuss what I think we might see more as a whole than game by game. 
Offense
The offensive side of the ball is likely to resemble the "Bad News Bears". The Walter Matthau 70's version and not the Billy Bob Thornton remake. Everyone is so excited about Todd Monken and Jamie Newman. I was excited too and still am to a large degree. However, I see no way an offense can have a lot of success early on with so many changes. A little birdie might have mentioned to me that he overheard a couple of players talking about how complex the new offense was with Todd Monken. Now this is all hearsay, but one quote might have been something like this, "man, I don't know where I am supposed to be or line up anymore." Oh wait! Did I mention the new offensive line coach? If not, please be aware that area of the offense is learning to do things differently as well. I am excited about all these changes to the staff and team, but we should not expect the offense to come out the gate firing on all cylinders. In fact, it will probably look pretty bad in the beginning. Just like the "Bad News Bears". My hope is that they start to find their stride about the time Auburn comes to town in October. Jamie Newman can become our Kelly Leak and Monken our Walter Matthau without the booze of course. Hopefully, a lineman will emerge as the beloved Engleberg. I am not sure where Tatum O'neal fits in but I stand by the comparison.
Defense
This is where Georgia can create problems for every opponent. I do not expect much fall off here and they could actually be better than last year. If you ever played football, you probably know that the defense is almost always ahead of the offense in summer camp and early in the season. All the other teams have the same challenges and their offenses should struggle as well. It would be reasonable to expect some ugly games. Think Missouri 9 to 3 during the Richt Era. This is an advantage for Georgia, and it may help them win a lot of games. I don't think you win in Tuscaloosa, but with a good defense and an improving offense you might win all the other ones.
Bottom Line
I just hope they play and make revenue for the colleges so that they can keep all the other sport programs funded. Almost everything this year is being cancelled, but this is where it needs to stop. We need to find a way through for many reasons. First, for our mind, body, and soul. We need something to cheer about and pull for rather than counting cases and tweeting about them. Second, we need revenue into these schools so other programs don't go away for good. Lastly, you may disagree with me and that is your right, but at some point, life has to go on. I wish we could all tell the Corona virus to go to hell, but we cannot. At least we can all say, Go Dawgs!
PS: If the language offends you, I do apologize. But you gotta understand it's been kind of a stressful year.