I started this website as a blog when 5Market Realty first opened.  At the time, I was working hard to brand and expose our new company and this little blog provided another way to do so.  What started as informational posts on real estate soon gave way to football topics as well.  Nowadays, this has become my personal real estate website where I promote personal listings and provide relevant real estate information to clients.  However, I still enjoy finding time to write some Bulldog football posts which garner more attention than the real estate posts which in the end is still not very much.  Even so, the time has come to think about the upcoming season and make some blind and ill-informed predictions on the Bulldogs upcoming year.  I say blind and ill-informed because nowadays even though we have access to so much information, it seems that we really have less knowledge than ever on practices, injuries, and coaches thanks to the secrecy around it all.  Even the best sports journalists must speculate with very little knowledge other than recruiting rankings and insight gathered from the past season.  That being true, I guess I am as qualified as anyone to make some predictions. 
Like most of you, I was very excited to see Clemson go on the schedule. As a fan, it is always fun to start with a big game. While I wish it was in Athens, I am just glad they are playing, and I remain optimistic for full stadiums. Over the first week of the season, this game will command most of the attention in college football. It is a big stage for both programs who used to play each much more frequently, but now it seems like a special occasion. Clemson has had more success than Georgia since their last meeting in Athens towards the end of the Richt era, but they have also had easier paths to that success. Regardless, Clemson is currently the better program by most standards despite having a losing record to Georgia. Right now, many Georgia fans are feeling a little cocky which I guess is normal for Bulldogs in August, but I am not sure I feel that way. If you have read these preseason predictions in the past, you might notice a consistent theme. That theme is one loss during the regular season with an optimistic feeling of a win in Atlanta. Well, I am just going to come out and say it now. Nothing has changed me this year. Instead of going through the season game by game, I am going to discuss the Clemson game and then take a small look at the rest of the year because I think the first game will decide how things shake out the rest of the way. Allow me to explain:
The Clemson Game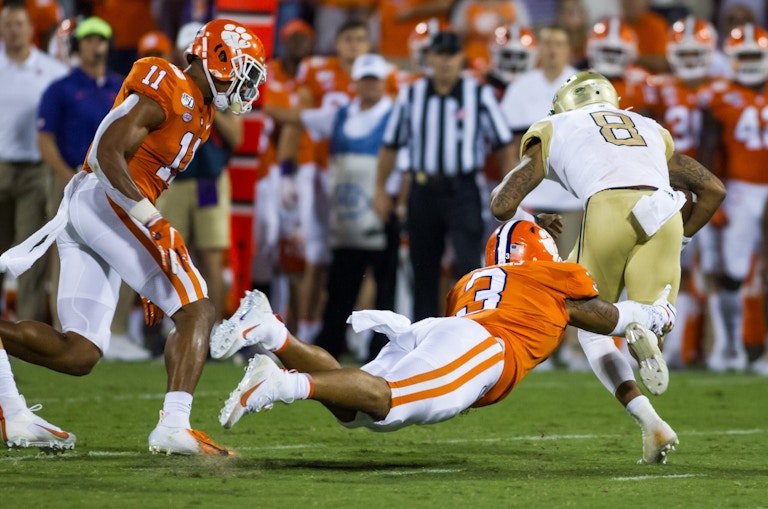 As I alluded to above, I don't believe Georgia is going undefeated this year. While the schedule appears favorable, that just doesn't seem realistic to me because it has yet to happen in my lifetime. It would be amazing, but I am going to keep my feet grounded firmly in reality. Georgia has some big questions on the offensive line, questions along with injuries at receiver, and a back field that has yet to prove anything to anyone. Those are the facts on offense for Georgia. People seem to expect that Todd Monken is going to deliver some fun and gun offense with JT Daniels as the gun slinger breaking all the school passing records. I sure hope that's true, but I will believe it when I see it. And while I really do want to see it, I just find it hard to believe right now. I have no reason to believe it could be true other than viewing things through the lenses of a Bulldog fan and of course the unreliable recruiting rankings. Clemson has lost a lot of talent, but they will be strong on the defensive line which should be a big concern for any Georgia fan. On the other hand, one of things I am very excited about is Georgia's front seven on defense. I believe Clemson's quarterback will try to run a lot in this game. If Georgia's front seven plays well and keeps him in the pocket, Georgia might just win. On the other hand, I just can't believe our offense will score a lot of points until I see it. I think Georgia loses this one and ruins my Labor Day weekend.
They Lost! So What!
Don't get me wrong, I want to see Georgia beat Clemson this year. I hate to think of watching them lose the game, but would that be the worst thing to happen? If you look at Georgia's schedule, the only game they can truly afford to lose is to Clemson. If they lose to Clemson and win the rest, they will control their own destiny. Furthermore, if they were to beat Clemson, I will just about guarantee a loss to either Auburn, Florida, or some other SEC foe later in the season. Meanwhile, I would like to see the team play with a chip on their shoulder for the rest of the season and not lose a game in the SEC. If Georgia does win out, they might get a chance to play Clemson again and we all know that it is hard to beat a good team twice.
Bottom Line
I don't think Georgia will be a great team by Labor Day, but I think they could end up being a great team by the end of September. The expectation level is higher than ever for Georgia fans, and maybe to reach those expectations Georgia needs to learn a tough lesson early. Let me be clear, if I am wrong about the Clemson game, no one will ever be happier to be wrong about something. After all, this is just a blind and ill-informed speculation…right? Go Dawgs!