Today is only Thursday, but it already feels less crowded here in Athens except for the Chick-Fil-A on Alps road of course.  I am trying to recall a game in my lifetime with as much excitement and fervor to make so many UGA fans travel as this week's match up against Notre Dame.  Sure, there have been some big games
here in Athens and Atlanta over the last 15 or so years.  LSU 2004, BAMA 2008 & 2012, along with some trips to the Georgia Dome come to mind.  However, I think you have to go back to 2002 when Georgia returned to the Sugar Bowl as the SEC Champion.  In 2002, Georgia fans were itching to get down to New Orleans to watch their Dawgs play Florida State.  I was one of them of course, and I had a blast even though it wasn't that great of game.  If you recall, FSU that year was a little beat down, and an underdog to Georgia.  I think Anquan Boldin had to move from receiver to quarterback for that one game.  In the end, Georgia fans weren't as excited about the match up in 2002 as they were about the trip.  And I worry that too many fans feel the same way about this trip to Notre Dame.
Granted, I have never been to South Bend, but I am pretty damn sure it is not equal to New Orleans.  Nevertheless, it does have appeal thanks to Notre Dame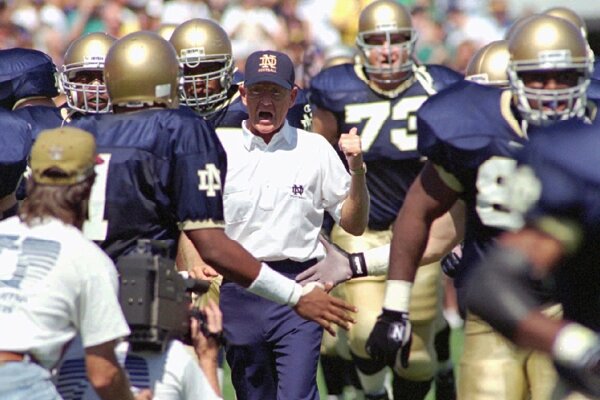 and their football team.  There is not much reason for me to go into Notre Dame's historic program.  Truth be told, I was not alive for much of their dominance.  I can recall Tony Rice, Rocket Ismail, and a kickoff return against Colorado while Lou Holtz spat on the sidelines with every word he shouted. (Suffering Succotash!)  To be very honest, most of what I remember of Notre Dame is Ron Powlus, Bob Davey, Tyron Willingham, and a dreadfully slow linebacker that believed he was dating a make believe girl on the internet.  None of these memories are good for Notre Dame by the way.   In the end, most people under
30 might be unaware of Notre Dame's long history.  Sadly, the same can be said for UGA.  For many fans this is  for certain a big game .  But on the other hand, this is simply a fun trip for a lot of fans .  And yes it should be fun.  Fans can visit Chicago, see a Cub's game, stare at Lake Michigan, eat deep dish pizza, and yes visit South Bend to watch Georgia play. I truly hope all of the Bulldogs enjoy the trip, but I also hope they know that this game means something.
I fully understand that this is NOT an SEC game, and a loss here doesn't affect the standings in the SEC eastern division.  But do you know what a win in South Bend on Saturday night would mean?  It would mean a return to relevance.  That's right Dawg fans. Georgia has not been relevant since 2012.  And they weren't relevant in 2009, 2010, 2013, 2014, 2015, or 2016 either.  Yikes!  The truth hurts.  Some of you may disagree with me on this point of view because you may define
relevance differently.  For me, being relevant is defeating a Top 10 team or even winning a game as the underdog.  I know Georgia beat Auburn last year in Sanford, but that one doesn't count for me.  I think the last big game Georgia won away from Sanford was Florida in 2012, and even that game was on a neutral field.  I could be wrong, but I think the last time Georgia had a big upset was 2006 against Auburn which was a 12 noon kick off on the plains.  Now I know that Notre Dame isn't ranked in the Top 10, but the game airs at 8pm on NBC for all the world to see.  Georgia is currently the underdog, and if they can win this one then they are relevant at least for a few weeks anyway.  On the other hand, if they lose they could still have a great year.  But winning in South Bend at night with a freshman quarterback could make a statement for this team and coaching staff.  And that's what they were hired to do here in Athens.  Winning this game could change the tune or narrative of Georgia Football from what it has been over the last 10 years.  So have fun up in South Bend and be sure to keep it classy.  But if you get into that stadium, scream your head off for your Bulldogs because this one is more than a vacation dawg fans.  Go Dawgs!