As the great comedy writer Larry David says, "pretty…., pretty…., pretty good", is exactly what most Georgia fans are feeling on this Tuesday before the Tennessee game. 
But not this Dawg fan.  In fact, I feel a great deal of anxiety for my beloved Bulldogs this week.  Yes of course I had a great time Saturday watching them thoroughly handle the bizzaro bulldogs from Mississippi.  You may even recall that I did predict this team to go 11 and 1, and so far I am looking much wiser than many thought only 4 weeks ago.  I still believe that record should be the eventual outcome of the season, but this Saturday the game in Knoxville truly has a chance to signify a drastic change in the football culture at UGA.  Most of you reading this should already understand why, but for those of you who don't let me explain.
I was born almost three months after Georgia won its last national title in football.  Since then my life as a Dawg fan has been filled with great times, great friends, and great memories.  But it has also been filled with great disappointment.  And these great disappointments have come right after some of the really great memories.  That has sort of been the life of Georgia fans for the past 36 years or so.  Don't get me wrong, I would not change being a Georgia man for any other team or school in the entire country.  I don't want a degree from a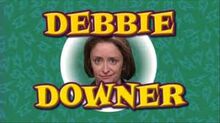 different university, and I don't want to live anywhere other than Athens.  Long and short, I am all in when it comes to the school and the state of Georgia.  I know this team is good, and I know the new coaching staff was brought here to change things for the better.  But I still have reason to worry.  I hate to be a "Negative Nancy" or a "Debbie Downer", but allow me to remind you of a few big games followed by some tough losses from the ghosts of UGA's past.
The first two games I have to lump together because I was so young. After rolling through the SEC in 1981 and 1982, Georgia lost two Sugar Bowls to two schools from Pennsylvania.  81' to Pitt and 82' to Penn State. Both games likely cost Georgia a national title.  Keep in mind these games were played after beating Florida, Auburn, and Tech to close out the season.  These games were heart breaking, but they are not examples of Georgia playing poorly.
The first big letdown game I can recall was Georgia vs. Auburn in 1997. Jim Donnan appeared to have Georgia over the hump with a 37-14 win over Florida.  The joy of that victory was short lived because Dameyune Craig and the Auburn Tigers beat Georgia solidly at Sanford Stadium in the very next game.
The next one came just a year later. Georgia went on the road to beat LSU with Quincy Carter in 1998.  Bulldog fans then dared to think their team would beat Tennessee the following weekend.  Well the joke was on us because the Bulldogs lost 22 to 3 in Sanford, and no one called Quincy Carter "ice water" ever again.
In 2004, Georgia dismantled the defending national champs, LSU, 45 to 16. We all felt great about ourselves.  Every fan was certain Georgia was on its way to the BCS.  But then Tennessee came to town the very next week with an upset win.  This one stung badly at the time.
Here is a list of other games in the last 15 years that hurt Georgia's chances to have a special year: Florida 2002, Auburn 2005, Tenn. 2007, Bama 2008, Tech 2008, SCAR 2012 just to name a few. Trust me there are more.
So here is my point, this Tennessee game is the typical trap game.  Just about the time that the fan base starts to feel good, the team goes out and losses one they shouldn't.  This has become a defining characteristic of Georgia Football for 20 years or more.  But here is an opportunity to change that perception with a win
over Tennessee this Saturday.  I don't care how they get it just as long as they win.  Have you also considered that Florida is already 2 and 0 in the SEC?  I know they don't deserve to be, but regardless of a comically bad off season they are still 2 and 0.  If Georgia loses this weekend, they are already behind the 8 Ball in the SEC East. So in my opinion, the season starts Saturday in Knoxville, and Florida is already a win ahead of both Tennessee and Georgia.
So I hope all you Bulldog fans out there feeling "pretty good" about your team realize that nothing has been accomplished, and there is a long ways to go.  So don't book a room in Atlanta just yet.  On the other hand, I think our head coach and new staff understand this all too well, and that should help the team keep their head out of the clouds this week.  All this being said, I am going to stand by my predictions for the year.  Dawgs win Saturday and the culture around the program improves a little more with each coming week.  Go Dawgs!